Finally a Copywriter Who Can Directly Increase My Sales Online
Steer Clear of Copywriters Who Say Web Copywriting is Exactly the Same as Print
Dear Friend,
If the year was 1995 they may have a case. The internet in 2012 is a completely different ball game.  Even the very definition of copy has changed!
Don't get me wrong, the fundamentals of copywriting have and will continue to last the test of time.
I for one have paid top dollar for many classic out-of-print copywriting books for my own library.
I wouldn't dare  to go against the Ogilvy's, Hopkins's & Schwartz's of the past.
But at the same time, I specialise online & know this new environment is so very different. Plus I don't just write. I program too. So I know all the good website widgets, plugins and platforms that will not only maximise your online conversions but also have your site running like a dream. Don't go to an artist (your web designer) for tips on how to sell online.
What's the Greatest Thing About Selling Online?
There has never been a more level playing field. The size of your marketing budget is no longer relevant.
I can help a start-up compete with company 100 times its size and have it look just as big to the user at the other end!  Never before has the little guy had such an opportunity.  Never before has the little guy needed such an opportunity!
Here is where an experienced copywriter comes in. Copy needs to excite, arouse and do whatever else needs to be done to keep the reader interested and make the sale.  Online, copy isn't just text like the old days.  It can be in the form of text, images, presentations, video, games, tweets, updates, statuses and more!
If they are not reading your copy they are not buying your product/service either.
Studies have now shown the average person is bombarded with between 1,200-1,600 marketing messages on a day.  We are evolving to block them out.
Ninety percent of the copywriting I see online is absolute junk. These people couldn't write themselves out of a paper bag.
Typically content creators who like to call themselves copywriters hang out on freelance sites.  They haven't studied or mastered the fundamentals of great copywriting.  Nor have they learnt to apply it in the 21st century.
The cheaper option is normally the cheaper option for a reason.   Your copy won't flow, it won't be split-tested or measured, and ultimately, it won't sell.
Not All Copywriters Are Created Equal
I am not, nor have I ever claimed to be the best copywriter out there. But I can tell you I am well studied.
I have studied and learnt from the masters. One of the pro's of living in the information age.
In the last 3 years alone I have put over 5,000 hours of pure study into copywriting. Unpaid study.
Tens of thousands spent on my education… Why? Because I want to be the best at selling online. It's a simple as that. I love the challenge of selling in the "virtual" form.  What's not to like?  It's a high leverage, low risk environment.
Creating Persuasive Online Content to help my clients get their product/services to Mass Market. It's what I do. I know this sounds cliche but… this is my passion.
But only when I'm not busy selling my own products. Only then I offer my services.
I Can be Trusted to Excel with the Following Things:-
Writing Website Copy, Product Descriptions & Online Sales Letters for Physical Goods, Services & Info Products
Fixing copy that isn't converting… (In traditional business it is said 50% of new Businesses fail in the first year. Online, 50% of Online Products

Never

Generate a Single Dollar!)
Creating & Testing a series of landing pages… (No true Copywriter does anything without testing, measuring, tweaking, and measuring again)
Search Engine Optimisation  (Most writers screw this up – Getting the Keyword Density right as well as Copy that still Converts is a real art.  If you are reading this chances are you found me via a search engine!)
Video Scripting, Production & Marketing… (Most Copywriters don't have a clue when it comes to online video & video marketing)
Social Media Account Management (and if you aren't actively selling via Social Media Marketing, you're leaving money on the table)
Detail-intensive pay-per-click campaigns…(Going Deep ie "Long Tail" for Maximum Results for the Minimum Cost per Click)
And everything else essential to making a business successful online (I do offline copywriting however 9 times out of 10 I choose not to)
My Personal Guarantee
If you become a client of mine, I'll make you the following promises:
I will meet your deadline – I pride myself on never missing one. If I can't make a deadline, I won't take on your project.
If you have existing online advertising I don't think I can beat your current campaign – I won't waste either of our time.
If I critique your existing website and copy & you test my recommendations and see no measurable increase in results, I'll refund your money.
My Guarantee Isn't For Customer Satisfaction
You see, my job isn't to make my clients happy. It's to get results.
To be completely honest, most of my clients start off reluctant to go with my changes as I tend to push the boundaries.
After they see the traffic increases, average times spent on their site sky-rocket, they are normally very happy. BUT…
If doesnt improve response rate and ultimately increase sales: – I'll refund you your money.
And for wasting your time, I'll do my absolute best to find you a more suitable internet marketer.
I sincerely want to help you sell your product (provided it does what you claim it does) via the internet.
I'll leave you with this last thought from one of my mentors – Jay Abraham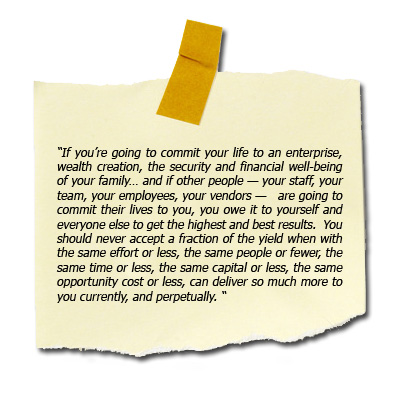 Happy Selling,
Web Copywriter/SEO Copywriter
www.copywriter.com.au